When commuting in the city, data is your friend
One of the great misconceptions about Tokyo is that it is confusing, frenetic and too packed. If you are used to travelling the metro systems in any big city you'll find Tokyo amongst the  easiest, most civil and civilised. Take Shinjuku for example, the busiest station in the world according to the Guinness Book of Records, with some 3.64 million people passing through a day. However, even at rush hour you are less likely to be bumped into, smell B.O, feel uncomfortable or get lost than in a station in London or New York. There are a lot of people, but with all signs in English and Japanese, with attendants everywhere and with a general level of education that has English speakers at every turn it's almost embarrassing how little Japanese you need to navigate the city. This holds true less outside of the major urban areas. But if you use a Spark roaming pack for these next couple of apps, a smile, and a good attitude, you will be amazed how easy it is.
Use Citymapper to navigate
Although Citymapper is not up to full strength yet in Tokyo it still beats Google Maps for ease and clarity. It's a navigation app that will get you where you need to go, with simple instructions, an offline mode and many options presented. It gives you the best information, down to which carriage of the train you should get on - and makes the search for the right exit out of a station simple. It can't be overstated how important it is in Japan that you leave the station by the right exit. Tokyo has an idiosyncratic numbering style and street signage is often not that easy to interpret, so popping out at the right exit and following GPS to the destination will save you a lot of stress. Fun fact: buildings in Tokyo are numbered for their order of construction within their vicinity. Really.
Use Google Translate for magical signage translation
This app rules. If you are without any help you simply wave the app over any writing and it translates it for you. It is some real science fiction stuff, except real, available now, and very useful. In practise I found that every time I looked lost looking at signage a kind multi-lingual local would wander over and assist. I may look more lost than the average person, but I've heard from others having similar experiences. Still, get the app in case you are not rescued.
Use Receipt bank the receipt killer
When I travel with work, which I do a bit between Vend and Ingrid Starnes, it's very important to keep good records of expenses, yet this goes against what is perhaps my one true superpower: the ability to lose receipts. The advent of the camera phone and text recognition has been a lifesaver. You simply get your receipt, load the app, take your photo, pop in your notes and categories and you're done - it's all uploaded to the cloud. Not worrying about paper records makes work travel feel like fun.
Make some Instagram stories
There is often a misconception that work travel is all fun. Contribute to this by sharing only the best moments of your trip, in the most scenic locations and most carefully chosen flattering shots. Instagram stories are a great way to do this, and if you download the story at the end of a day of missioning you've made yourself a little travel video. It's funny how people's travel photos don't include getting lost, surprise cockroaches or headaches. Be advised, boasting through photos will mean people will have no sympathy for you if you complain about work travel.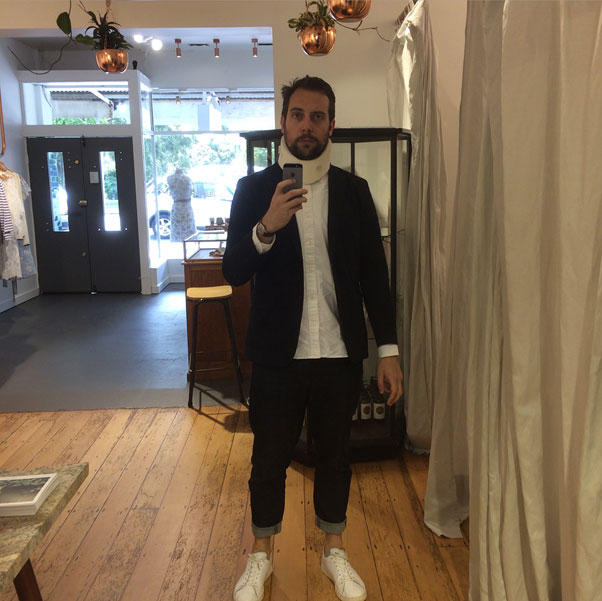 After the last trip I needed a neck brace. Long story, and one that didn't make Instagram stories.